Staying as world's one-of-a-kind in the field of
optical fiber applications
Our contributions to networked communities will be further enhanced towards the future
generations, by means of our unique optical semiconductor element assemblers/test-related
products, represented by bestselling eutectic die bonders
Being together with customers- Full customization
- High accuracy performance realized by our product development/designing force
Every product is designed and manufactured by our engineering teams in charge of hardware, software, and manufacturing, to be so unique that it can fully satisfy customer needs/requirements.

A successful result of our incessant all-out pursuit to the positioning accuracy control in a few microns' scale, as well as advantages in system operability and ease of maintenance, has been bringing us a high reputation on our products both in the domestic and international markets.
Design,manufacture and sales of assembly and testing instruments for optical semiconductors
LD die bonder(TO-CAN、COC、COS、COB, etc.) 
LD wire bonder  LD pick/place device 
LD visual inspection system  Solder ribbon cutter 
Flip chip bonder  Automatic active alignment system(AOC, etc.)
Delivering proven reliability worldwide
Our service after the sales includes training programs, comprehensive support for new
production setup, periodical maintenance, repair, and even modifications, widely covering
the customer's site not only in Japan but in other Asian countries (including Taiwan, China,
Malaysia, Thailand) and the US..
Sales agent and distributors
Sales agent, Taiwan and China
Conary Enterprise Co.,Ltd.

10F, No. 28 Sec. 3 NanKing East Rd. Taipei,(10489) Taiwan
TEL +886-2-2509-1399 FAX +886-2-2501-6279
http://www.conary.com.tw
Distributor, international market
E-Globaledge Corporation

Nakameguro GT Tower 7F, 2-1-1 Kamimeguro,
Meguro-ku Tokyo, Japan 153-0051
TEL +81-3-6412-6011 FAX +81-3-6412-6015
http://www.e-globaledge.com
Distributor, domestic and Asian market
SANSHO SHOJI Co., Ltd.

Osaka Mitsui Bldg., 2-3-33, Nakanoshima Kita-ku,
Osaka City,Osaka 530-0006
TEL +81-6-6221-0888 FAX +81-6-6221-0881
http://www.sansho-shoji.co.jp
Towards realization of even more comfortable community life,
our Kasaoka base never stops its challenge to the world competitive edge.
Continuedly evolving optosemiconductor devices such as optical discs, optical communication devices, projectors, and 3-dimensional sensors have been extending their application boundaries in our daily lives. Our specialty is in the field of development and manufacturing of system products assembling such opto-semiconductor devices and their testing relations.
Our head office located in Kasaoka-city, Okayama-prefecture, with beautiful nature and a plenty of local specialties, is where input from and output to worldwide customers are briskly occurring, and where our engineering force is striving after the best possible outcome through its development activities.
Since its foundation, our company has been most stressing an inquisitive mind on each engineer, always asking themselves WHY, because our development field often requires how-to-see-things in another dimension. Our success in winning a long-lasting partnership with the existing customers, we believe, owes a lot to this. With that particular core competence, our challenge in creative field of opto-semiconductor devices' potentiality will never cease, in order to help realize an even more comfortable community life for the generations to come, which is our mission.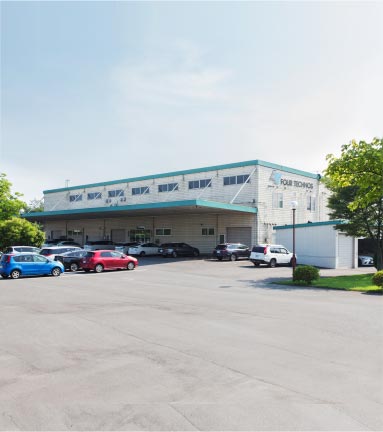 Company name
FOUR TECHNOS Co., Ltd.
Capital
60 million yen
Foundation
Aug. 1994
Chief executive officer
Hajime Fujiwara,Shouji Hashiguchi
Head Office Address
2918-18,Mobira,Kasaoka-City,
Okayama Pref,Japan 714-0062
Telephone
+81-865-69-6001
Fax
+81-865-69-6011
Products
Design, manufacture, and sales of opto-semiconductor device testing systems
LD die bonder, LD chip testing system, etc.
Bankers
Chugoku Bank,Hiroshima Bank,Sumitomo Mitsui Banking Corporation,Tomato Bank
Company History
Aug.1994

Establishment of forerunning company; Four Technos that was incorporated as a private limited company deciding its head office at Suginami-ku,Tokyo.

May 1995

Foundation of our Development Center at the location of Nishi-Oshima,Kasaoka City,Okayama Prefecture.

Feb.1996

Modification of the organization,the company was reorganized as FOUR TECHNOS Co.,Ltd.

Mar.1996

Head office moved to 2-8-4,Shinjyuku,Shinjyuku-ku,Tokyo

Mar.1996

Foundation and official registration of Okayama branch office.

Sep.1996

Foundation of the new Development Center at the location of Mochinoe,Kasaoka City,Okayama Pref,Japan.

2000

Management team renewal

May 2001

The Development Center of the company was transferred to current address

Sep.2007

Head office moved to Mobira, Kasaoka, Okayama

2017

Management team renewal
Map
Estimated time to reach our head office …
Taxicab:

15 min. from Kasaoka station, 10 min. from Daimon station
Car driving:

20 min. from Kasaoka interchange, 25 min. from Fukuyama Higashi interchange.